This document reflects the experience accumulated over 10 years of conservation, management and use of the biodiversity found in the 120,000 terrestrial hectares and 70,000 marine hectares which make up the Area de Conservación Guanacaste (A.C.G.), which was established with the express purpose of restoring an entire ecosystem of dry forest, along with the adjacent ecosystems of rain forest, cloud forest and the marine environments, and to assure the survival of its biodiversity in the future.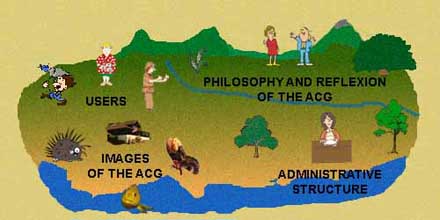 The Area de Conservación Guanacaste is composed of what used to be different categories of National Parks: Santa Rosa, Guanacaste and Rincón de la Vieja, as well as Estacion Experimental Horizontes and the Wildlife Refuge of Bahía Junquillal. A series of properties were purchased to form a continuous block of biodiversity of 120,000 terrestrial hectares and 70,000 marine hectares, in which there exist approximately 230,000 species (65% of the estimated number of species in Costa Rica). The Area de Conservación Guanacaste has 10 years experience in searching for and making a model based on a tropical reality which would permit the conservation of biodiversity by means of non-damaging use by society. The ACG, is one of the eleven Areas of Conservation that make up the Sistema Nacional de Areas de Conservación (SINAC) (National System of Conservation Areas), of the Ministerio del Ambiente y Energía (MINAE) (Ministry of the Environment and Energy) of the Costa Rican government.

In response to the new policies of the Ministry of Environment and Energy, of decentralizing functions and responsibilities, the ACG has increased its responsibilities to add the Agricultural Landscape (Agroscape) Area , whose management objectives are different from those of the ACG. This is a new step for the ACG, in which we have to develop the experience, human resources and the financial resources neccessary to accomplish the objectives of the Agrolandscape Area.



---
AREA DE CONSERVACION GUANACASTE



FUENTE DE VIDA Y DESARROLLO

TEL-FAX: (506) 695-5598 - SANTA ROSA
TEL-FAX: (506) 695-5577 - POCOSOL
TEL-FAX: (506) 666-0630 - LIBERIA

APARTADO POSTAL 169-5000, LIBERIA
GUANACASTE, COSTA RICA
AMERICA CENTRAL
---


Páginas en Construcción
Pages under construction
HECHO POR EL PERSONAL DEL AREA DE CONSERVACION GUANACASTE
EN EL AREA DE CONSERVACION GUANACASTE
---
Last Modified August 5, 1997
All Rights Reserved. Copyright © Area de Conservación Guanacaste